Here at SCR&PT, we specialize in providing gentle and effective chiropractic care to help our patients manage their pain and improve their overall lifestyle. Our patient-centered approach to chiropractic care has delivered optimal results, so you can feel confident that you are in exceptional hands with our expert team. If back pain, headaches, or neck pain interfere with your life, chiropractic care may be the answer.
What is Chiropractic Care?
A doctor of chiropractic is a healthcare professional that focuses on musculoskeletal system disorders of the spine and the nervous system. A chiropractor can help you with various musculoskeletal conditions. At SCR&PT, we specialize in treating many ailments that patients can face during their lifetime. Chiropractic care is a non-invasive, effective treatment that can reduce a patient's pain and inflammation, improve their flexibility, posture, and potentially avoid surgical intervention. While there are several options for dealing with pain, we are familiar with various techniques tailored to treat individual patient needs. Upon your first visit to our office, our chiropractor will evaluate your medical history and perform a thorough Chiropractic, Orthopedic, and Neurological exam to determine if chiropractic care is best for you. Some of the conditions that can benefit from chiropractic care include:
Sciatica
Auto Accident Injuries
Workers' Compensation
Neck and Back Pain
Shoulder Pain
Headaches and Migraines
Sports Injuries
Dizziness, Numbness, and Tingling
Posture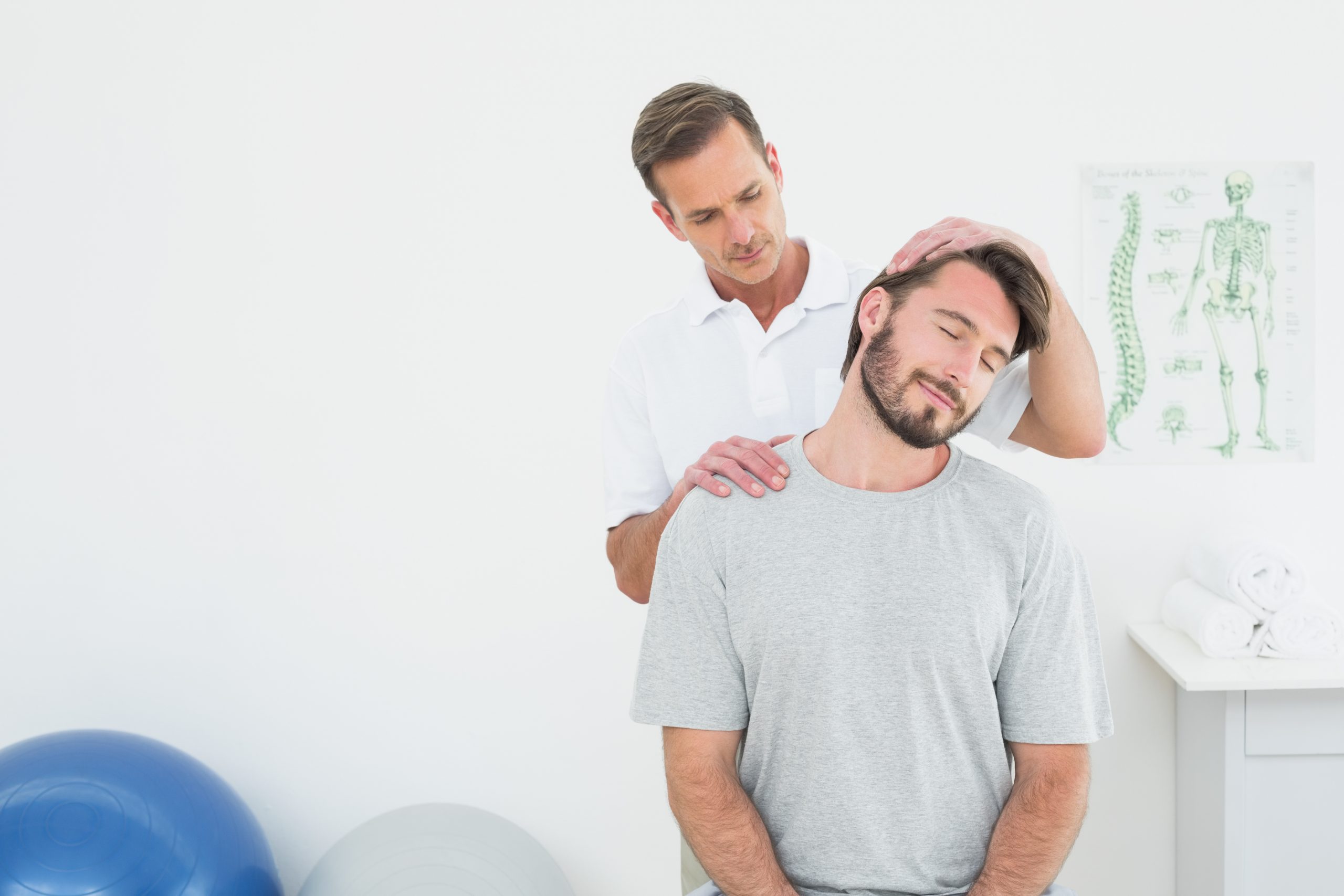 At SCR&PT, we don't believe in a one-size-fits-all approach to chiropractic care. When you visit our office in Shirley, we will carefully evaluate your needs and determine the best treatment course for your conditions. We employ various chiropractic techniques, including chiropractic adjustments, soft-tissue therapy, therapeutic exercises, and stretches.
Chiropractic Adjustments
Chiropractic adjustments are the cornerstone of chiropractic care. If you have not experienced this treatment before, you may be wondering how it can benefit you. Adjustments are one of the ways chiropractors treat issues affecting your back and spine. The chiropractor will apply gentle force to some regions of your spine and vertebrae to realign the spine's position and reduce or eliminate any subluxation in the area. When your spine is misaligned, long-term complications can arise. The benefits of spinal adjustments include:
A natural and effective treatment that does not require the use of pain medications.
Reducing the risk or need to undergo surgery.
Improving Flexibility & Range of Motion.
Chiropractic adjustments are a versatile treatment that can be used to manage back pain, neck pain, joint pain, and headaches.
Soft Tissue Therapy
Soft-tissue therapy is a form of manual therapy that helps relax tight muscles, relieve spasms and tension. Soft tissue therapy goes beyond chiropractic adjustments to help relieve more specific causes of pain or conditions while improving your movement and overall function. The soft tissues are composed of muscles, ligaments, and tendons and tend to exhibit abnormal tension from traumatic injuries, poor posture, or strains or sprains from an activity. This tension can cause tenderness and cause movement dysfunctions. This hands-on approach to therapy is specialized to help relieve pain, stiffness and improve range of motion. Our team will determine if this treatment is right for you to deliver the best possible results.
Therapeutic Exercises
Whether you're looking to improve your health or suffering from a work-related injury, therapeutic exercises and stretches can help with rehabilitation and help you maintain a healthy and active lifestyle. Our team is dedicated to providing you with quality care and helping you achieve your overall wellness goals. Some of the benefits of therapeutic exercise include:
Reducing Stress
Improving Endurance
Promoting flexibility and range of motion.
Improving postural issues.
Improving overall musculoskeletal function.
Therapeutic exercise can involve a range of activities from resistance training, flexibility training, and endurance training. Your exercises will be designed to work with your unique needs and help you reach an improved fitness level.
Contact SCR&PT Today
SCR&PT is a multidisciplinary office, and we will work with you to determine the suitable treatment method. Our integrative approach to care is second to none, with our team having over 30 years of servicing the Shirley community. To learn more about chiropractic care and start your healing process, schedule an appointment with us today.